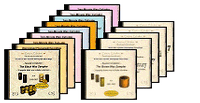 gb
b
Vinyl Transfers
33 rpm Vinyl LP (10" & 12") £14 & £16 / side respectively
45 rpm Vinyl Singles (7") transfer £8 per side 33/45 rpm
Vinyl Singles (12") transfer £14 per side 33/45 rpm
Vinyl EPs (7") transfer £10 per side
16" Vinyl BBC transcription discs transfer £20 per side
Full mastering of 12" LP Vinyl £40 per side
Manual restoration £30 per hour (pro-rata)
Additional cost for special requirements such as editing gap length, fades, EQ requirements etc £10.00
j
78 rpm Shellac Transfers
78 rpm Shellac records (6"- 8") £10 per side
78 rpm Shellac records (10") £12 per side
78 rpm Shellac records (12") £14 per side
Manual restoration £28 per hour (pro rata)
Repairs to broken shellac records £10 - £30 (depending on damage)
h
78 rpm Acetate Discs
Acetate discs (6" - 8") £10 per side
Acetate discs (10") £12 per side
Acetate discs (12") £14 per side
Acerate discs (14") £16 per side
Manual restoration £28 per hour (pro rata)
h
Aluminium 'Voice Message' Discs
5" Aluminium 'Message' discs £12 per side
6" Aluminium 'Message' discs £14 per side
7" Aluminium 'Message' discs £15 per side
10" Aluminium 'Message' discs £16 per side
Manual restoration £28 per hour (pro rata)
b
Audio Cassettes

C 30 & C60 cassettes to CD £12 per side
C90 cassettes to CD £14 per side
C100 cassettes to CD £15 per side
C120 cassettes to CDs £22 per side (2 x CDs required)
Baking of tape cassettes £10
Repairs to cassette tape (broken or tangled) £10
k
Dictaphone Cassettes
Dictaphone Cassettes (Mini - and Microcassettes - standard play) £15 per 30 minute side
Dictaphone Cassettes (Mini - and Microcassettes - long play) £25 per 60 minute side
j
1/4" Reel to Reel Tape
Domestic reel to reel tape (up to 7" reels) £35 per hour + editing & restoration
2-channel studio master reel to reel tape (7") (includes baking) £30 per tape
2-channel studio master reel to reel tape (10.5") (includes baking) £40 per tape
-------------------------------------------------------------------
Wax cylinder to digital – POA.
Wire recordings - £55
8-Track Cartridges - £25
MiniDisc Transfer
SP MiniDisc (80 mins) £35 per disc
LP MiniDisc (LP2) 2 hr 40 mins £50 per disc
LP MiniDisc (LP4) 5 hours £65 per disc
h
DAT Cassette Tape
DAT Cassette £35.00
DAT Cassette (less than 20 mins) £25
d
VHS & Betamax tapes (audio track only) - £30 per tape
Studio editing £40 per hour
Additional CD copies - £6
Baking service (per tape) - £10
m
All transfers can be produced to WAV, FLAC, AIFF, MP3 and other file formats of your choice.
For large quantities of records and tapes, a discount can be offered - please inquire.
Payment
Direct bank transfer:
Shaw Sounds
Sort: 09-01-28
Account: 48049868
Also - Cheque & Cash

a
All vinyl and shellac records are thoroughly wet cleaned before conversion.
All records and tapes are reproduced on professional EMT studio turntables and Studer tape machines.
Cedar noise reduction is available for all conversions to remove clicks, crackle, buzz and hiss.
Tracking numbers will also be inserted to the final CD master for easy navigation.
Artwork to the CDs and jewel cases are included in the price.
For large quantity transfers of either records, tapes or digital media, please contact us for a quotation.
Should you require help with pricing, please call John Shaw - 01708 342553 / 07941 556912.